Pour répondre à la pression de plus en plus forte auxquelles elles sont soumises, les mangroves deviennent l'objet d'opération de restauration. Il ne faut pas les confondre avec deux autres types d'opération, même si toutes trois peuvent coexister.
Restaurer des mangroves déstabilisées, entreprendre la gestion sylvicole (finalité : la production de bois) de celles qui sont en place ou créer de nouveaux peuplements par afforestation de vasières nues : ces trois types d'opération de foresterie sont devenues courantes et bien maîtrisées sur l'ensemble des littoraux tropicaux et subtropicaux. I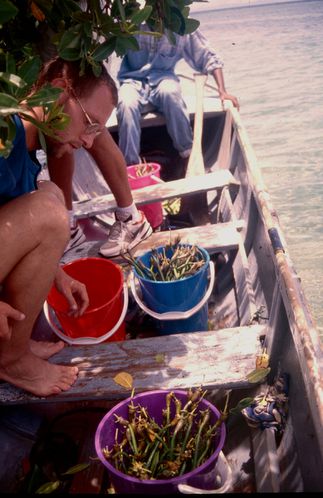 Du fait d'une meilleure prise en compte des ressources que ces formations végétales représentent et de l'impact qu'elles peuvent avoir sur la dynamique sédimentaire littorale, les Etats et les collectivités comprennent mieux aujourd'hui l'intérêt qu'il peut y avoir à assurer leur bonne gestion. Ainside nombreux programmes sont en cours à ce propos, notamment en Asie tropicale et en Afrique. Dans toute opération de restauration, aux contraintes naturelles comme les courants, les houles ou l'écologie de chaque essence de palétuvier qu'il s'agit de toujours bien prendre en compte, s'ajoute une importante dimension social. Si les premières sont plutôt aisées à maîtriser, cette dernière en revanche, parce qu'elle est souvent ignorée ou mésestimée, semble à l'origine de nombreux échecs.
Voir sur le Web :
Wetlands International, 2012 : "Ecological Mangrove Restoration in Thailand".
Wikipedia, 2012 : " Mangrove restoration" : Excellente page en anglais ouverte en juillet 2012.
Le site Mangrove Restoration, créé par Roy R. "Robin" Lewis III à Salt Springs, Floride
On trouvera ci-dessous une bibliographie relative aux différents types d'opération.
Bosire, J.O. et al., 2003.- Colonization of non-planted mangrove species into restored mangrove stands in Gazi Bay, Kenya. Aquatic Botany 76 (4): 267-279.
Cintron, G., 1992.- Restoring mangrove systems. In: Thayer, G. (ed.), Restoring the Nation's Marine Environment.
Maryland Sea Grant College Publ. College Park, MD, p. 223-277.
Clarke, A. & Johns, L., 2002.- Mangrove nurseries: Construction, propagation and planting. Queensland Fisheries Services, Australia. http://www2.dpi.qld.gov.au/extra/pdf/fishweb/fhg004.pdf
Day, S., W.J. Streever, J.J. Watts, 1999.- An Experimental Assessment of Slag as a Substrate for Mangrove rehabilitation. Restoration Ecology, Vol. 7, Issue 2 : 139-144
Ellison, A. M., 2008.- Preface to a special issue of Aquatic Botany on Mangrove ecology - applications in forestry and coastal zone management. Aquatic Botany, 89: 77 p.
Ellison, A.M., 2000.- Mangrove Restoration: Do we know enough? Restoration Ecology, Vol. 8, Issue 3, 219-229.
Ellison, A.M., 2000.- Restoration of Mangrove Ecosystems. Restoration Ecology, Vol. 8, Issue 3, 217-218.
Ellison, A.M., 2008.- Managing mangroves with benthic biodiversity in mind: moving beyond roving banditry. Journal of Sea Research, 59: 2-15.
Ellison, A.M., Farnsworth, E.J. 1990. The ecology of Belizean mangrove-root fouling communities. I. Epibenthic fauna are barriers to isopod attach of red mangrove roots. Journal of Experimental Marine Biology and Ecology , 142: pp. 91-104.
Field, C.D. (ed.), 1997.- Restoration of mangrove ecosystems. Okinawa, ISME/ITTO, 250 p.
Field, C.D., 1998.- Rehabilitation of Mangrove Ecosystems: An Overview. Marine Pollution Bulletin, Vol. 37, 8-12: 383-392.
Field, C.D., 1998.- Rationale and practices of mangrove aforestation. Marine and Freshwater Research 49: 353-358.
Goforth, H.W. & Thomas, J.R., 1980.- Plantings of red mangroves (Rhizopohra mangle L.) for stabilization of marl shorelines in the Florida Keys. In : D.P. Cole (ed .) Proceedings 6th Ann. Conf. Wetlands Restor. Creation. Hillsborough Community College, Tampa, Fl., pp. 207-230.
Imbert, D., Rousteau, A., Scherrer, P., 2000.- Ecology of Mangrove Growth and Recovery in the Lesser Antilles : State of Knowledge and Basis for Restoration Projects. Restoration Ecology, Vol. 8, Issue 3: 230-236.
Kairo, J.G. et al., 2001.- Restoration and management of mangrove systems – a lesson for and from the East African region. S. A. Journal of Botany 67: 383-389.
Kaly, U.L. & Jones, G.P., 1998.- Mangrove restoration: a potential tool for management in tropical developing countries. Ambio 27(8) : 656-661.
Lebigre, J.-M., 1998.- Restauration de mangroves et plantation de palétuviers : contraintes et aléas. In : Mainet, G. (ed.), Iles et littoraux tropicaux - VIIe Journées de Géographie tropicale (Colloque de Brest - 11-12-13 septembre 1997). Nantes Ouest éditions Presse Académique, Tome 2. Sociétés et espaces littoraux et insulaires dans les pays tropicaux : 371-380.
Lewis, R.R., 1990.- Creation and restoration of coastal wetlands in Puerto Rico and the U.S. Virgin Islands. In : Kusler, J.A., Kentula, M.E. (eds .) Wetland Creation and Restoration. Island Press, Washington : 103-123.
Lewis III, R.R., 2005.- Ecological engineering for successful management and restoration of mangrove forests. Ecological Engineering, 24 : 403–418.
McKee, K.L., Faulkner, P.L., 2000.- Restoration of Biogeochemical Function in Mangrove Forests. Restoration Ecology, Vol. 8, Issue 3 : 247-25.
Proffitt, E.C., 1997.- Managing Oil Spills in Mangrove Ecosystems: Effects, Remediation, Restoration and Modeling. New Orleans, Report. http://www.gomr.boemre.gov/PI/PDFImages/ESPIS/3/3254.pdf
Sanyal, P., 1998.- Rehabilitation of degraded mangrove forests of the Sunderbans of India. Program of the International Workshop on the Rehabilitation of Degraded Coastal Systems. Phuket Marine Biological Center, Phuket, Thailand, 19-24 January 1998, 25.
Siddiqi, N.A., Islam, M.R., Khan, M.A.S. & Shahidullah, M., 1993.- Mangrove nurseries in Bangladesh. Okinawa, International Society for Mangrove Ecosystems, Mangrove ecosystems occasional papers, n°1, 14 p.
Stephen, M.F., 1984.- Mangrove restoration in Naples, Florida. In: F.J . Webb (ed.) Proc. Tenth Ann. Conf. Wed. Restoration and Creation. Hillsborough Community College, Tampa, Fl., p . 201-216.
Teas, H.J., 1977.- Ecology and restoration of mangrove shorelines in Florida. Environ. Conserv., 4 :51-58 .
Thorhaug, A., 1990.- Restoration of mangroves and seagrasses economic benefits for fisheries and mariculture. In: Beger, J.J. (ed.), Environmental Restoration: Science and strategies forrestoring the earth. Island Press, Washington, p. 265-281.
Toledo, G., Rojas, A., Bashan, Y, 2001.- Monitoring of black mangrove restoration with nursery-reared seedlings on an arid coastal lagoon. Hydrobiologia, 444: 101-109.
Turner, R.E., Lewis, R.R., 1997.- Hydrologic restoration of coastal wetlands. Wetlands Ecology and Management, 4(2), 65-72.
Vovides, A.G., Bashan, Y., López-Portillo, J.A., Guevara, R., 2010.- Nitrogen Fixation in Preserved, Reforested, Naturally Regenerated and Impaired Mangroves as an Indicator of Functional Restoration in Mangroves in an Arid Region of Mexico. Restoration Ecology.
Wakushima, S., Kuraishi, S. & Sakurai, N., 1994.- Soil salinity and pH in Japanese mangrove forests and growth of cultivated mangrove plants in different soil conditions. J. Plant Res., 107: 39-46.
Walters, B.B., 2000.- Local Mangrove Planting in the Philippines: Are Fisherfolk and Fishpond Owners Effective Restorationists? Restoration Ecology, Vol. 8, Issue 3 : 237-24.
Première publication : 31/07/2010